On the top of a snowy mountain and evil xmas tree awaits the evil santa's uprising!
_________________
Suddenly a creature jumps from the demonic trail of reindeers and smashes against the ground holding a huge back pack dressed in red.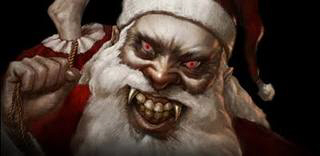 It smiles with large vampiric fangs and drops two boxes on the ground and says.
"Merry Yule to you kindreds of the night, may the evil Lord bless upon you with gift of doom and sorrow!"
Then the sled flies down to pick up evil santa and with terrifying laughter he lefts flying away.
_________________
Star stands there looking around in both fear and awe. Star could not tell if this was a dream or reality, and after the night she just had in Central Park, anything was possible.

▂▂▂▂▂▂STAR▂▂▂▂▂▂
" ... What the holy hell is this... damn it.... The whole fucking world keeps going insane!  How come I never noticed this sh!t while I was alive! "
Star said staring at the evil looking Christmas Tree.

As Star saw the evil Santa dismount his slay and land before her, Star took several steps back in shock.
Star stared in wonderment as he ploped down the gifts with a wicked grin and then mounts his slay again and fly's off into the night....

<...doom... & sorrow...?... Don't I have enough of that in my life already??>


Star staired at the boxes for a good few moments wondering what was inside the two boxes.  Star looked around at her environment and then back at the gifts
<... Are these going to blow up in my face if I open them?...>

<...if there is some kind of God out there... please... Please... Don't let me die at the hands of a Vampire Santa. >

Star thought as she got closer to the boxes, leaning down and pressing her ear to the lid, listening for any sounds.


<...OK.. I'm already dead and vampires can't die in a dream... Right?>

Star tapped the boxes and mustered up her courage to open them...
Ancillae





Posts

: 840


Join date

: 2018-09-05

Character sheet
Blood pool:


(6/13)


Willpower:


(6/6)


Health:


(7/7)



Inside the first box was a glowing orb that exploded on sight. Suddenly Rebecca felt infused with the power of Ages, feeling incredibly powerful as Time went through her veins, aging her body and soul.



Then encouraged and confident about the first gift Rebecca went to the second box. Inside was a strange machine powered by magic and working as an enignma beyond human intelect comprehension.


_________________
Star was shocked and felt empowered as the Evil Santa's gifts washed over her, seeping into Both her mind, body and even her soul.

▂▂▂▂▂▂STAR▂▂▂▂▂▂
" hee-hee this is a most excellent dream. "
Star said as she cuckled to herself, enjoying her new blessings.

Ancillae





Posts

: 840


Join date

: 2018-09-05

Character sheet
Blood pool:


(6/13)


Willpower:


(6/6)


Health:


(7/7)



Star is suddenly drawn back to her own dimension and back into slumber!

[Scene closed]
_________________
▂▂▂▂ Christmas Points ▂▂▂▂
10 Freebies to spend
• Potance 2 (-7 FB)
• Humanity 6 (-1 FB)
• Subterfuge 3 (-2FB)

▂▂▂ Secondary Ability ▂▂▂▂
10FBs to spend
• Boxing 2 (Brawl)
• Street-fighting 2 (Brawl)
• Seduction 2 (Subterfuge)
• Persuation 2 (Subterfuge)
• Shadowing 2 (Stealth)
Ancillae





Posts

: 840


Join date

: 2018-09-05

Character sheet
Blood pool:


(6/13)


Willpower:


(6/6)


Health:


(7/7)





Similar topics
---
Permissions in this forum:
You
cannot
reply to topics in this forum